5/5 Stars
I'm going to die.
This is the story of how my life goes downhill from there...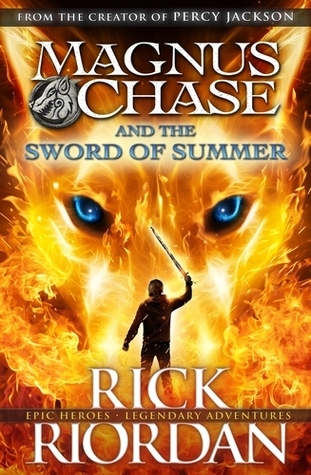 Edition: Hardcover
Pages: 495
Chapters: 72 (Plus an epilogue and glossary.)
Publisher: Puffin Books
Review
No one does mythology-inspired tales of action and adventure quite like Rick Riordan.
I've only finished his
Percy Jackson and the Olympians
series (I condensed all five books into one amateurish review way back when, and if you're interested, it's
here
), and I'm ashamed it took me so long to pick up another book by this author.
The Sword of Summer?
Sheer bliss. There's no one better to play with real mythology (Norse in this book's case) while adding their own imagination into the mix.
The works of Riordan might be aimed at the younger generation, but they tailor to both children and adults. Kids' imaginations will be captured and adults' nostalgia for the daring adventures they dreamed of as youngsters will be rekindled.
Synopsis (I usually write my own little blurb, it keeps the review from being overwhelmed with synopsis, but, in this case, I'm making an exception.)
My name is Magnus Chase.
I'm orphaned and living rough on the streets of Boston.
And things are about to get much worse.
My day started out normally enough. I was sleeping under a bridge when some guy kicked me awake and said, 'They're after you.'
Next thing I know, I'm reunited with my obnoxious uncle, who casually informs me that my long-lost father is a Norse god.
Nothing normal about that. And it turns out the gods of Asgard are preparing for war. Apparently, if I can't find the sword my father lost two thousand years ago, there will be doom. Doomsday, to be precise.
A fire giant attacking the city?
Immortal warriors hacking each other to pieces?
Unkillable wolves with glowing eyes?
It's all coming up.
But first I'm going to die.
This is the story of how my life goes downhill from there...
Plot - 5/5 Stars
That blurb! If I had to choose the best synopsis I've read, The Sword of Summer's races right to number one. It grabs you, holds you, and the more you fight the tighter its grip becomes. The way it gets my anticipation going even now is awesome. It doesn't stop there, before you even start the first chapter, you get a list of what the chapters are called, and honestly, they're some of the best headings in any novel. Funny and apt, they have you unable to put the book down.
Now let's get to the beef of this smasher. We have a wonderfully intriguing and action-packed beginning that leads into a fascinating world of Norse mythology (with Riordan's own interpretations and twists). It's fun, magical and packed full of juicy tidbits. I can see this kind of novel being snatched up by schools, because it's perfect for getting kids into reading.
There's a talking sword, talking goats, a hammer that plays every TV show in the world... The Sword of Summer has strange and riveting in spades.
Oh, and did I mention the locations? Get ready for the epitome of action/adventure. The author beautifully sets these amazing scenes with worlds of wonder and civilisations with character.
And then, as the whirlwind of chaotic fantasy reaches its most powerful, we have an epic and magical finale. I am so ready for more.
Pace - 5/5 Stars
Take your time.
The novel's pace is great, it's steady and smooth and if you're not careful, the pages will fly away from you; but try and take your time. There's a wealth of information and myth inside this book, and it's not only gratifying to read, but wholly worth it to absorb.
Plus, there's a handy glossary at the back in case you forget something.
Characters - 5/5 Stars
I love Percy Jackson from the series mentioned at the top, I really do, but Magnus is pretty darn fantastic. Sixteen-year-old Magnus Chase has lost his mother, and for two years he's been homeless. He has a gritty, street-smart aura with sarcasm galore. I was in fits of laughter on many an occasion thanks to Magnus's penchant for cracking a joke, even during the direst of circumstances. His carefree and capable attitude makes him a winner. His darker, more emotional elements balance that out.
Now there are too many cast members for me to go in-depth with them all, but trust me, Riordan's characters are a huge highlight. Their diversity and individuality make them compelling, and their personalities vary along a spectrum of pure imagination.
The overall family feel is strong and well-written.
Writing - 5/5 Stars
The Sword of Summer's light, fast-paced writing style is laced with humour. The author knows how to structure a novel, and he knows how to make everything within that structure count. There are some wickedly hilarious wisecracks, and even the cheesiest ones bring a smile to the reader's face.
Overall - 5/5 Stars
Plus, extra props for mentioning my man Darren Shan!
For more Rick Riordan reviews: Index
Add me, follow me, let's get talking!
Don't forget, you can subscribe by email near the bottom of the blog (on desktop version) and have new posts delivered straight to you!
My Goodreads
My Twitter