4/5 Stars
A woman's severed leg had been crammed sideways in the box,
the toes of the foot bent back to fit...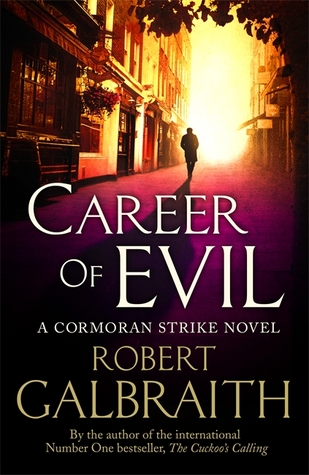 Edition: Hardback
Pages: 487
Chapters: 62
Publisher: Sphere
Review
J.K. Rowling -- ahem, I mean, Robert Galbraith, is back with another fantastically written detective story! When I saw the advertisements I squealed (most unmanly-like) in sheer joy. Rowling is a phenomenal writer, and although you don't need me to tell you that, I need to say it. Her storytelling abilities are unrivalled.
Career of Evil, the third in her detective/crime series, continues the trend of in-depth and captivating characters who traipse around the dark in search of horrifying evil. Strong, solid writing reinforces the addictive experience.
But - yes, I know, there's a but - this entry's pace really miffs me, sadly. There are long stretches of time that, while not redundant in any way, do little in terms of plot progression. What I mean by that is, we spend a lot of time with the cast (especially in terms of the two leads, Cormoran and Robin); we learn about their histories and inner demons, their relationships and motivations and, while largely successful, the main thread of story can feel lost and thin in comparison.
SPOILER WARNING
Synopsis (Not a copy from the book, but I always keep my interpretations close.)
As Cormoran Strike's private detective agency grows, thanks in large to his partner, Robin's, intuitive help, things seem to be levelling out for the mysterious gumshoe.
That is, until Robin receives a severed leg in the mail.
And Strike has four horrendous individuals in mind as suspects.
As the plot thickens, and the killer muddies their trail, personal conflicts clash with professional, with Strike and Robin's relationships on both bridges ready to collapse.
With dark pasts and revelations, the two need to swallow their misgivings and hunt the killer down.
Before more body parts end up in their mail...
Plot - 4/5 Stars
Galbraith (Rowling, I'm already confusing myself) starts us off with a creepy, straight-to-the-point treat: Someone's out to destroy Cormoran, by any sadistic way possible, and poor Robin - named almost affectionately, and kind of insultingly, by the killer as The Secretary - is in the middle. Opening with the villain's viewpoint is great, giving the reader a shiver.
Then, if you haven't been irked enough, Robin receives a leg in the post. Yep, a leg, a leg that is not attached, as it should be, to the rest of its body.
The beginning, in a word, is fantastic.
From then on, it's a little bit of a bumpy ride. I say that as both a pro and a con. Galbraith's intelligent mind crafts a gritty and realistic detective tale, full with dead-ends, interviews and a lot of reflection. While I admire the story's attention to detail, everything comes up slightly murky. As I said up top, Career of Evil has tons of character development. There are so many interesting histories and personalities that the amount can often feel burdensome.
This is no fast-paced thriller.
It's this focus on the cast that overshadows the invigorating case that lies in the centre. There are also strong themes of sexism and misogyny, which is especially prevalent in the killer's chapters, and the weight overwhelms the already heavy progression, with important details slipping through the cracks.
By the time I reached the end, the reveal of the bad guy left me kind of disappointed. It's neat and interesting, with some details slipping in with a satisfying click, but others, sadly, remain at the edges unfulfilled.
The end, however, caught me by surprise, and I don't think I'm quite over it. How can you end it like that Galbraith-Rowling? I need to know!
Pace - 3.5/5 Stars
The slow-burning pace will divide you, especially because there are so many reasons to love the contents of this book. When things get going, they really get going, with the author holding you in their hand like putty. But, there are also a lot of drops. The weight of everything together just manages to keep its head above water.
Career of Evil is a novel that needs your time and concentration.
Characters - 4.5/5 Stars
Despite not all the parts always working in tandem, Galbraith knocks it out the park with the cast (as usual). The range and presence of each, even those on the sidelines, is inspiring. If only we all could depict a group of dysfunctional, fictional people in this way.
Cormoran Strike, the moderately famous private detective, remains as compelling as ever. Honestly, the guy could give Columbo a run for his money; that's the sort of feel I get from both the story and Strike himself (with a more modern tone). He's smart, resourceful and capable of looking out for himself. His dark history and experience earned through horrors really puts him up with the greats in the crime genre.
Robin, Strike's partner and friend, fits into a role most would observe as 'sidekick'. She's anything but. Her keen intuition and more emotional connection to this world compliments Strike's brash and often cold approach. They're a wonderful team, rather than a leader and a lackey. Perhaps the most eye-opening part of Career of Evil, is Robin's heartbreaking past. It's a tale that both shocks the reader and gives us a renewed respect of just how much of a survivor Robin is.
The two leads' chemistry is quality of the highest order. I love them together! And the way Galbraith puts them on a much more even keel now that Robin has risen in detective ability does wonders for their relationship. I'm also a little worried. I adore their intelligent and platonic connection so much, but, I also am partial to the developing romance (there's no denying it). I'm not entirely sure why, considering how abrasive any future romance might be between the two, thanks to their radically different outlooks. But their love of the job they do and the efficiency with which they pull it off together makes them a perfect match.
Know who I hated from start to finish, though? Robin's fiance, Matthew (I'm ashamed he has the same name as me, bringing all good Matthews out there down). It's great that Galbraith breaks up the monotony of their animosity in this entry. Matthew's anger and jealousy towards Robin and Strike's working relationship really grates. Their relationship and upcoming marriage still conflicts just a little, but I feel we're moving the right way (which means Robin moving away from her asshat of a fiance).
Writing - 5/5 Stars
The strong, high quality writing is envious, and a major, major highlight. Galbraith (Rowling, have I mentioned that?) never fails. Never! And there better be no opinion otherwise... (Kidding!)
Personally I feel like, who doesn't want to write like this? The author's skills are beautiful, smooth and perfect in their portrayal of scenes, characters and tones (even if it doesn't always all mesh).
Overall - 4/5 Stars
Rambled on a bit, haven't I?
Let's keep this bit short: Read. This. Book!
Add me, follow me, let's get talking!
Don't forget, you can subscribe by email near the bottom of the blog (on desktop version) and have new posts delivered straight to you!
My Goodreads
My Twitter
Google+