5/5 Stars
Magic is dangerous -
but love is more dangerous still...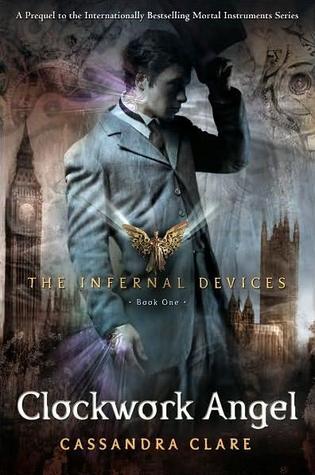 Edition: Paperback
Pages: 482
Chapters: 20 (Plus a prologue and an epilogue.)
Publisher: Walker Books
Review
Looking for a great piece of historical/fantasy/steampunk/romantic fiction?
Cassandra Clare has your back!
Clockwork Angel, the first book in The Infernal Devices trilogy (which is a prequel series to the phenomenal The Mortal Instruments), is a tantalising start. Filled with the fantastical and the magical; the unexpected and the completely unexpected; topped off with a wonder-filled world and a colourful cast.
It's good to be back in the fight between heaven and hell (and all the battles between).
Synopsis (Not a copy from the book, but I always keep my interpretations close.)
Tessa Gray is on the run.
Dark, malevolent forces lie in wait to snatch her from the streets of 19th century England.
Drawn to the protection of the Shadowhunters, Tessa becomes inextricably stuck in the sticky strands of the supernatural.
She's special.
In a way no one can quite pinpoint.
And evil waits to take hold of it...
Plot - 5/5 Stars
After just a few chapters I was back to being enamored by Clare's world-building ability. Both this series and its parent one, The Mortal Instruments, boast a magical mythology that's hard to beat. Angels, demons, warlocks, fairies etc. etc., all come to form a fantastical web of enviable imagination. Then add in the fact that the way with which the author manipulates the mysteries of her world, well, it's masterful.
The story inside Clockwork Angel starts the trilogy off on a high. The structure manages the plot's progression perfectly, tying in tension, suspense and all things otherworldly. There are some awesome twists to reward you for devouring the action and exposition, and while the novel ends with many questions, Clare answers enough to keep the reader satisfied and desperate for more.
Pace - 5/5 Stars
Clockwork Angel is a book to spend time with, and that's evident in its more slow-burning elements. But it's steady and can surprise you. It's not a burden to pass through this series' world, and even when immersed, you'll find yourself surprised by how quickly you reach the end.
Characters - 4.5/5 Stars
Clare offers you an array of individuals, and that's exactly what they are, individual. Each character's personality is like a foghorn: They come through loud, clear and utterly distinctive. They don't always work, but the complicated mesh of their lives, including their pasts and their interactions with one another, is riveting.
Our main character, Tessa, splits me down the middle. Overall she's a capable lead with a murky history that even she doesn't know; but at times she's incredibly meh. I couldn't always get a grip on her, and those blank moments can be kind of jarring.
Besides that everyone is great: Will, with his cocky, bad-boy attitude hides a heart of gold; Jem, the voice of reason and balance, despite what his future holds; Jess, the spunky, and often rude, lady who despises the world she's been dropped in; and Charlotte and Henry, matriarch and patriarch, determined to do right. There's a ton more, but I promise you this, you'll love them all even if you hate them.
Writing - 5/5 Stars
The author's writing is beautiful. It's likely not for everyone, because it is very flowery in a way. But if you enjoy an almost poetic narrative then you're on to a winner. I think it's spectacular. It's descriptive, without going overboard; varying perfectly with its speed and weight when action and exposition scenes pop up; and it connects well with the reader.
Overall - 5/5 Stars
A tremendous start to what's hopefully a tremendous trilogy.
Add me, follow me, let's get talking!
Don't forget, you can subscribe by email near the bottom of the blog (on desktop version) and have new posts delivered straight to you!
My Goodreads
My Twitter