4.5/5 Stars
Can a killer win your heart?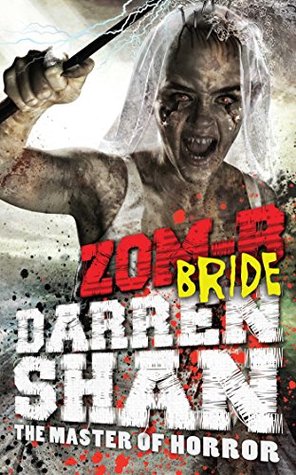 Edition:
Hardcover
Pages:
234
Chapters:
22
Publisher:
Simon & Schuster
Book Links:
Goodreads
Amazon
Author's Website
Review
Here comes the bride, all dressed in... crazy?
Sweetly serene in the soft bloody light.
Terrifying to see, stumbling to thee.
Sweet love manipulated for eternity.
Okay, I'll stop. I'm sorry, but I couldn't help myself. I inserted those lines mentally during -
SPOILER
- the wedding scene. I know, there's something wrong with me.
Zom-B Bride
manages to up the series' game of throwing our minds a curve ball. Some massive questions are answered; keen insights are made into our more mysterious characters; and the series rattles along as it comes ever closer to its completion.
Bride
comes down a gear in terms of pace, which is both a blessing and a curse, but I'm still infuriated over the fact I'm going to have to wait for the next instalment.
My patience sucks!
SPOILER ALERT
B has been brought to the belly of the beast, and part of her doesn't care.
She took a beating, and enough is enough.
She's done her part, right?
Well, the crazy she knew before is about to be obliterated.
And a new crazy will take its place.
Get set for the wedding of the century!
Zom-B Bride
is filled with exposition. So much so that action takes a backseat, and the pace suffers for it. But when the answers we're getting are this good, it's barely a problem. This entry's plot is full of insanity and events that you'd never have thought would take place. B, the mother of demon-like babies? What!? B, getting ready to marry the series' big bad Mr Dowling? Stop! B, messing with our minds to the point we almost believe she's turning evil? I don't believe you.
Wait, all of that happens?
That, and more.
And the action does pick up again when we reach another cliffhanger ending.
Oh how I hate and love in equal measure cliffhanger endings.
Zom-B Bride'
s main source of suspense, is the way B tries to work from inside the belly of the beast. She reached new moral heights in
Family,
where she stepped up into the person she, herself, wanted to be. The prospect of it all being unravelled is terrifying. There are a few moments in the book where I thought we were going to lose her. It's highlighted by her warming up to the mutant babies - who still creep me the hell out - especially when she finds out that, technically, her genetics were instrumental in creating them.
Although, is it bad that I want an army of crazy powerful babies on my side too?
What I'm not so keen on, is the union of B and Mr Dowling. The decision doesn't fully resonate with me, mainly because I don't think B's reasoning suited her. A lot of emphasis is put on her need and want to help Mr Dowling, who over the course of the novel, becomes much more pitiable.
The expansion of the clown though is great. He's been a creepy, visual character from the moment he was introduced, but in
Bride
we get a very literal look into his mind. We see how he ticks, what he used to be, what he wants. We don't get to see what made him what he is, but the fleshing out of his character really lends weight to the themes of good and evil, and how one is always tainted by the other.
Bride
gives us some much awaited answers, and focuses heavily on its characters. Everything is shaping up.
I think I stayed up too late to write this, part of me feels I should have done better.
That's what lack of sleep does to you. Makes you paranoid and overtly critical.
On a brighter note, that's not really that bright, I want the next entry now...
Previous Instalment: Zom-B Family
Add me, follow me, let's get talking!
Don't forget, you can subscribe by email near the bottom of the blog (on desktop version) and have new posts delivered straight to you!
My Goodreads
My Twitter