5/5 Stars
"Every time," he said quietly. "Every time I think I'm missing a piece of me, you give it back."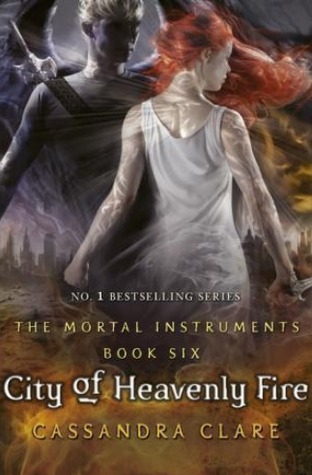 Edition:
Paperback
Pages:
733
Chapters:
24 (Plus a prologue and an epilogue.)
Publisher:
Walker Books
Book Links:
Goodreads
Amazon
Author's Website
Review
City of Heavenly Fire
left me with tears in my eyes; happy, feel-good tears. This action-packed, spellbinding conclusion to a wondrous series is, in one simple word, perfect. If I could give it more than 5/5 I would. One of my main rubs with
City of Lost Souls
is how, for me, it feels very long-winded. Well, as you can probably tell,
City of Heavenly Fire
is a
beast
of a novel. It is
huge
; and yet, it flows better than all of its predecessors combined. In part because of the writing, but mainly because this finale is the coalescence of five books worth of building. We're attuned to
The Mortal Instruments'
world by now, and this entry, this fantastic entry, is everything you love about the series, with none of the drawbacks.
The Heavenly Fire is still coursing through Jace's veins, and he has no idea how to control it.
To make matters worse, Sebastian is on the move, attacking Institutes and Shadowhunters, converting them to his cause.
He's almost unstoppable. Invincible.
Clary, and her beloved friends, face a harsh path, harsher than any they've ever had to take.
And not all of them are coming home...
One of the main pluses of
City of Heavenly Fire
is Ms Clare's ability to keep such a long book interesting. Like I said, it flows better than all of the series combined. It's impossible to put down, and has the giddiness of a book that no longer has to draw out its mysteries, it can give out answers to long-awaited questions. It leaves us breathless and yearning for more. The twists and turns and surprises keep everything exciting, but it never feels like too much.
We've been waiting for it.
The twists and shocks themselves are also well-plotted. There are the kind whose conclusions we reach ourselves, having been expertly given the information subtly throughout; there are the surprises that come up behind us without warning; and there're the heartwarming ones that we see coming without being told, but we're still left worrying whether or not what we think will happen will indeed happen.
Like the story the characters truly come into their own. No one person is wasted in the machine that is this book. Their growths from an entire series of six books is emphasised; their personalities are magnified; and by the end, their relationships with one another are cemented. I don't dislike anyone, there's an unbreakable connection between the reader and the cast of characters that inhabit
The Mortal Instruments
series.
When you're finished, you feel almost sated, like you've spent your time well with an action-packed, often hilarious and heartbreaking story.
City of Heavenly Fire
is a great end to a great series, and it manages to balance on an impossible divide: It manages to be both hopeful, and grounded.
I cannot wait to pick up the prequel series.
Or for that matter, the sequel one as well.
Previous Instalment: City of Lost Souls
Add me, follow me, let's get talking!
Don't forget, you can subscribe by email near the bottom of the blog (on desktop version) and have new posts delivered straight to you!
My Goodreads
My Twitter
Google+