4/5 Stars
Hunter Astley has always known that he is different......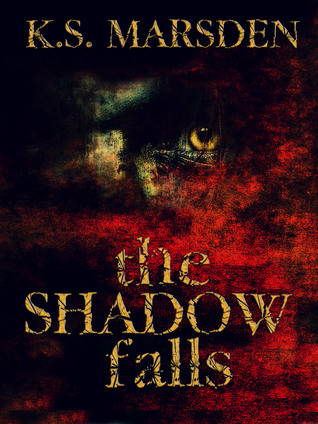 Edition:
Kindle
Pages:
306
Chapters:
--
Publisher:
Self-published
Book Links:
Goodreads
Amazon
Author's Blog
Review
And the end of a trilogy comes. Again. Sometimes I hate endings, especially when it signifies the end of something I love.
The Witch-Hunter
series has not failed to capture my imagination, and for that, I thank it.
The Shadow Falls
is an excellent conclusion by any standards, and what I enjoy most about it is that, even once the story has finished, it left just enough questions unanswered that if Ms Marsden chose to return to it, I'd be one of the first to scoop up a copy. I guess it's lucky then, that even though this trilogy has ended, another foray into the world is to be expected. Just to be careful, this review might contain SPOILERS, whether deliberate or by accident, so if you haven't reached this far in the series, or just haven't started, check out my spoiler free review for the novel that started it,
The Shadow Rises.
The Shadow Falls
picks up a little while after the end of book two,
The Shadow Reigns
, and continues Hunter Astley's search for a way to defeat his former lover, and powerful foe, Sophie Murphy, aka The Shadow Witch. His search pulls him to Italy as he seeks out an ancient and powerful group of people, The Benandanti. Hunter knows they're his only hope, even though they may no longer exist, but what happens when expectations aren't met? Will Hunter be able to overcome his disappointment, his pride, everything holding him back, and if so, will he be able to defeat the biggest threat anyone will ever face?
I adore where the beginning of the book takes us. I really hoped Ms Marsden would steer the story in the direction that it does, and I can't contain my excitement. We are introduced to the group of people who are mentioned in the first two novels, and I'm glad they aren't kept as mysterious and enigmatic, because it was a question that weighed heavily on me to find out who they were. The first half of the book is perfect, fulfilling everything I wanted it to. While sometimes you feel overwhelmed by the amount of information to process and remember at any given time, it's no secret that my main attraction to the
Witch-Hunter
series has been its mythology. The world building and characters combined with the plot are engaging, strong enough to carry the reader right through the novel. Want proof? Just check the time I was up till while desperate to finish the second one.
Ms Marsden also has a knack for characters. From the first entry of the series to the last, there have been a wealth of characters, with the majority being dynamic and wonderful, with only a few exceptions. At the end of
The Shadow Reigns
I was dubious. Most of the core group, if not all main characters, are killed, and part of me couldn't help worry that anyone brought in next would pale in comparison, but I needn't have. There are some fantastic additions in
The Shadow Falls
, with Mel the forefront in my mind, and I feel even having a backup role in this one, that the character is strong enough to feature more prominently in the future.
Now this is the main SPOILER part for me, just a few tidbits that holds me back from giving the full five stars. The first one is Sophie's mother, Bev. I feel sad that a more concrete answer to the question of what happened to her isn't present. You could almost describe her as one of the 'good' guys, and I'm a little thrown by how she vanishes from the story.
Still no compassion from me for Sophie. I just cannot connect to her, for someone so powerful and intelligent, her lack of insight and dominance overall is unimposing.
I also have mixed emotions for the ending. While I love the dynamics of how Hunter finally took down Sophie, it all feels a little too fast, and it leaves some questions unanswered.
I do love the sort of montage though, where we get a glimpse of the world building itself back up, while in the process becoming a much stronger and more open one at the same time.
I love this series. I love its world, its story, its dynamics, mythology. I love its characters and while this series has ended, I'm glad Ms Marsden is undertaking a prequel to it, calming the sadness I feel about not being able to have more time in this world.
It is a real pleasure.
Previous Instalment: The Shadow Reigns
Add me, follow me, let's get talking!
Don't forget, you can subscribe by email near the bottom of the blog (on desktop version) and have new posts delivered straight to you!
My Goodreads
My Twitter
Google+